International Biologists Attend Training Course with MEFGL
MEFGL was host to a plethora of international researchers this September, who came to Bangor for a training course entitled "Bioinformatics for eDNA", as well as the UK's eDNA Working Group Meeting.

The training course, funded by the Global Innovation Initiative grant from the British Council, (awarded to Dr Mark de Bruyn of MEFGL) was taught by researchers from Bangor, France, Denmark and Mexico, with participants from both corners of the world – from Udayana University in Bali, Indonesia, and University of California, Los Angeles, USA, as well as Bangor University.
Alice Evans and Si Creer of MEFGL also led the course with Mark, and took the participants through the entire pipeline of eDNA analysis, from sampling in the sun from a boat next Puffin Island, to lab work in MEFGL's facilities in the ECW, to sorting DNA sequences using cutting edge bioinformatics. The course was a great success thanks to some fantastic teaching and enthusiastic learning!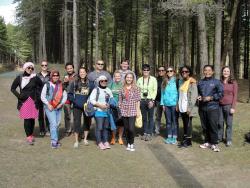 Participants from the "Bioinformatics for eDNA" course also attended the UK's 3rd eDNA Working Group Meeting, to which around 70 academics and stakeholders made the journey from the USA, Indonesia, Turkey, Belgium and all across the UK.
The Bangor 2015 meeting followed on from meetings in 2014 in York and Hull, and brought together universities, research institutes charities and government agencies with an interest in the world of environmental DNA: Keynote speakers Dr Jeremy Briggs of the Freshwater Habitats Trust, and Dr Kristy Deiner of the Swiss Federal Institute of Aquatic Science and Technology, sparked some interesting discussion, as well as talks from members of universities and other groups.
Publication date: 29 October 2015