Congratulations to Caitlin Potter and Iliana Bista on passing their PhD vivas!!
We would like congratulate and to wish both Caitlin Potter and Iliana Bista the very best for their forthcoming research careers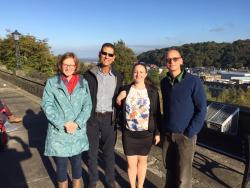 after both recently successfully defended their PhD theses. Caitlin was joined by Dr Alex Dumbrell as external examiner from the University of Essex and Iliana by Dr Lori Handley (below) from the University of Hull. For both days, both candidates enjoyed beautiful sunshine and fruitful discussions on the microbial mechanisms of the release of carbon from peatland ecosystems (Caitlin), and how eDNA meta-barcoding can be used to enhance ecological assessment of freshwater biodiversity (Iliana). Of course, both PhDs were complemented by generous helpings of molecular ecology and evolution throughout. Both candidates are now attending to minor corrections, writing manuscripts and looking for future posts and so if you have opportunities that will suit their skill sets, please do not hesitate to get in touch....
Publication date: 14 October 2016